The freight forwarders, customs brokers, and NVOCCs (Non-vessel operating common carriers) know that following the accounting standards, maintaining accounting best principles, and including accounting into the operational equation is a challenging job. Freight accounting is an integral part of the Transcount software, this makes it easy to generate bills in timely and accurately simply and effortlessly.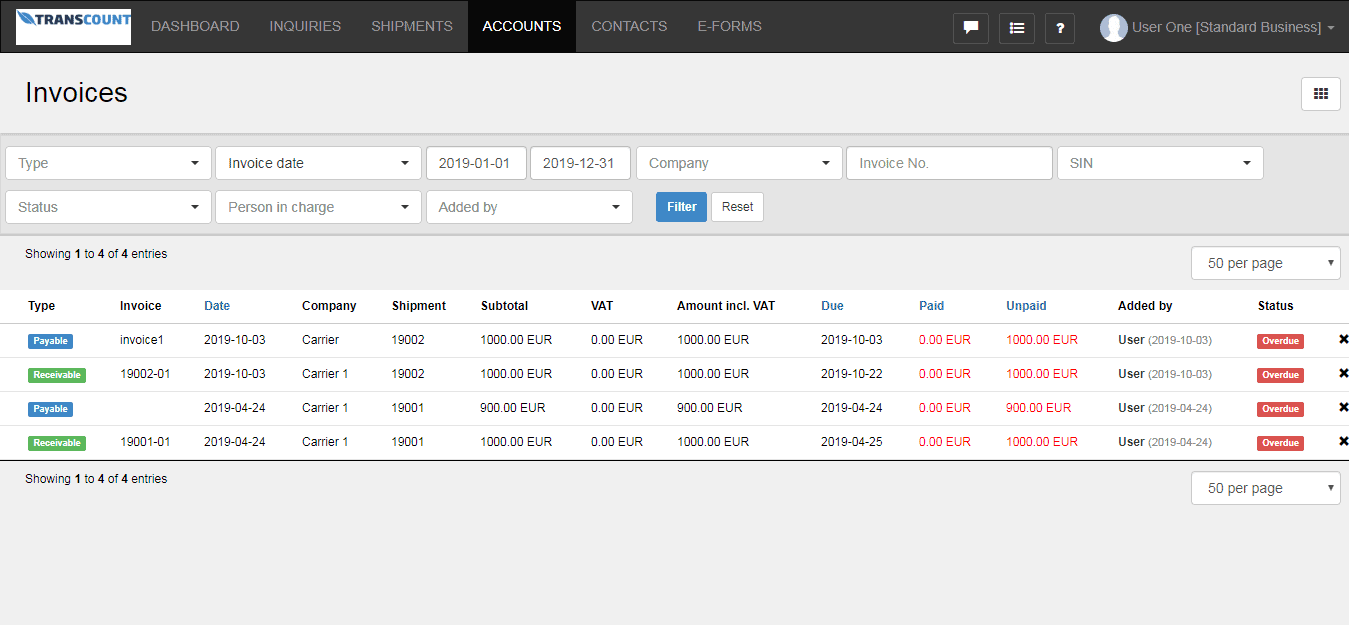 Transcount takes complete care of all your accounting needs, right from the producing and managing invoices, credit notes, statements, and payment remainders until creating various financial reports. It is important and crucial for any business to maintain the highest level of accounting standards and for Freight Forwarders it will be challenging tasks provided the complexities of the global trade. The digital capabilities have made it easy to use solution with automated calculations, invoice lists, facility to sort and download Excel sheets for your accounting needs.
The primary features include:
Creating an invoice in the required language: English, Russian, Spanish.
Email invoices to customers
Create Payments
Manage partial payments and create receipts
View and download aging reports
Manage unpaid invoices
Check customer balances
Vendor invoice management
Generate Profit/loss reports
Automated Calculations
Charge your freight based on the contracts, delivery location, agents, brokers, and all together. The system allows adding items to invoice, change charges, change items and let the system auto calculate the charges.
Reports
The export option to provide invoice details that has all the required details, Type, Invoice Date, Company Shipment, Subtotal, VAT, Amount incl. VAT, Due, Paid, Unpaid, Added by, Status, Currency, and download profit report with a single click from the Invoice tab.
Transparency
The customer invoices are in a proper format, easy to read and understand. This makes the customer happier and allows them to pay the bills faster.
Expense Tracking
It is made easier to track all the expenses and allow you to track every expense from every shipment.
Duplicate Entries
The Transcount software will help you to make sure there are no duplicate entries. It will allow you to always bill your customer at the right time and with no duplication.
All in one advanced accounting management system will ensure to drive your business growth. Transcount will help you in developing language customizable invoices to customers, add shipping invoices from shippers, customize tax percentage, view all payable and receivables for each shipment and auto calculate profit, email invoice to customers, view all sent invoices, manage and monitor unpaid invoices, and manage vendor invoices.