The OMS (Order Management System) is used to automate and streamline order processing and fulfillment processes. The system provides a complete database of shippers, customers, information about billing and payments, and order processing records. The benefits of a well-organized order management system include improvised sales visibility, efficient order processing, and improved customer experience. The cloud-based software has been crafted carefully to meet the flexible needs of the freight forwarder to enable seamless performance. Maximize your productivity by creating shipments within minutes!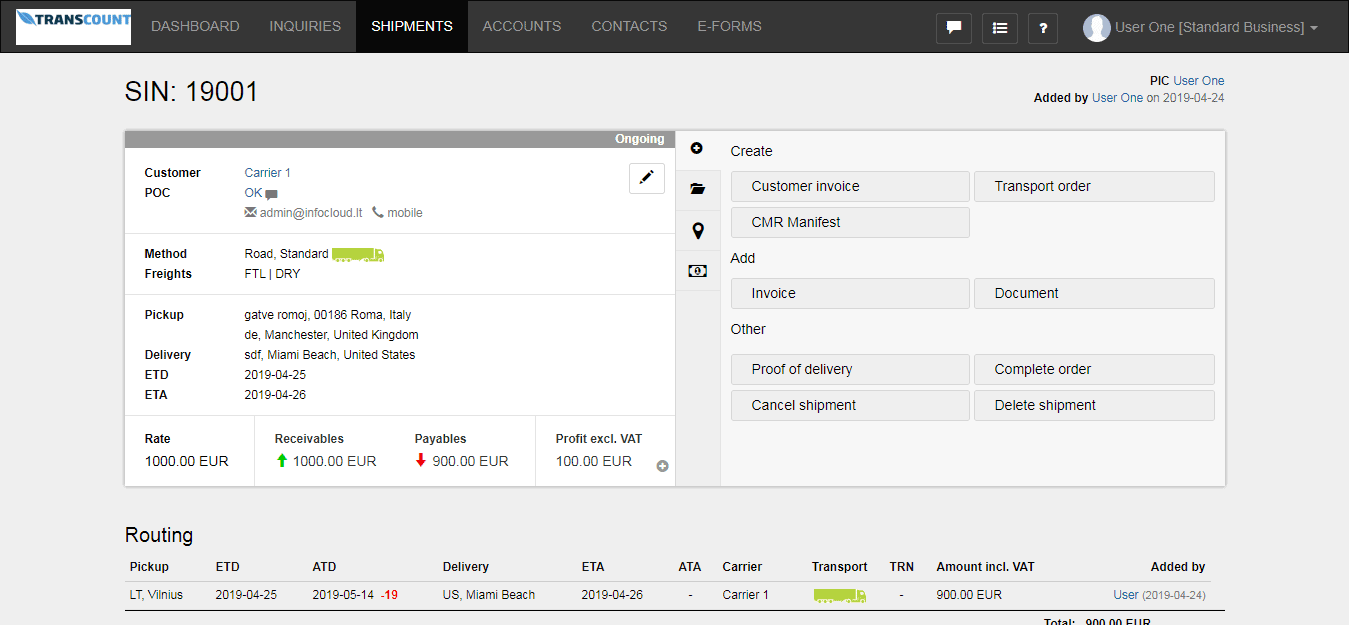 In the event of creating a shipment:
The software permits multiple pickups and delivery locations with an estimated time of departure and estimated time for arrival
Multiple price tables with the option to select currency type and add custom tax
Enter all shipment details including, direction, incoterms, and transportation method using the dropdown options to save your valuable time
Within a matter of minutes, you will be able to create shipments and the shipment line will appear under the shipment tab. The best part of the Transcount Order Management tool is that it allows you to create the following with few clicks:
Customer Invoice
Transport Order
CRM Manifest
You can add Invoice and related documents to the Shipment and at any point, you can delete and cancel the Shipment, download proof of delivery, and complete the order.
Under the Shipment tab, you will be able to view the information of all the shipments, shipment number, inquiry, pickup address, delivery address, estimated time of departure, customer name, booking reference number, carrier, TRN, rate, assigned person, the status of the shipment. The detailed CSV format file can be downloaded to meet the accounting and reporting needs.
It becomes difficult to retrieve information if there are hundreds and thousands of shipments. The Transcount has a solution for it and has built the SaaS tool in such a way that you can sort the shipment lines based on the shipment number, pickup location, delivery location, estimated time of departure, and more. Additionally, one has an option to search shipments by shipment number, booking reference number, from the country, to country, loading type, and status and you can filter the shipments by the Date range (From date to To date). The search functionality is one easy to use solution to search and find the respective shipments.
The tool allows you to download reports in CSV, Excel, and PDF formats. It also helps to filter out explicit records using pre-defined set criteria and download the reports in required formats.